Your manufacturer & supplier for automatic lubrication systems.
Accept no compromises and rely on over 25 years of experience in automatic lubrication systems. We are your partner for planning, engineering and construction of excellent lubrication systems and also act as a service and maintenance provider for all spare parts and automatic lubrication systems.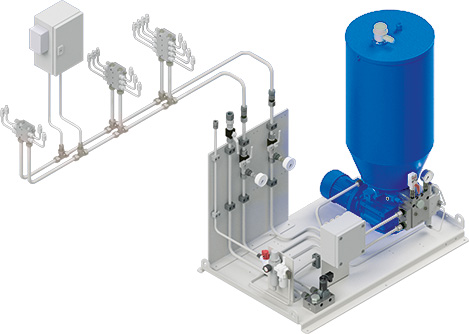 What are the advantages of automatic lubrication systems?
Increased efficiency
Automated lubrication is faster and more precise compared to manual lubrication. This saves you up to 100% in time and therefore costs.
Save money 
A lubrication system reduces lubricant consumption, maintenance costs, repairs to your equipment and labor time. In addition, the system usually amortizes after only a few months.
Work safety 
Accidents at work can occur especially at lubrication points that are difficult to access. Using our automatic lubrication systems, your employees are protected.
Monitoring of the system 
Our systems allow complete or partial monitoring of the entire lubrication system. Expensive machine failures are reduced to a minimum.
Consistent lubrication 
Regular lubrication contributes to improved machine performance and extended component life with less lubricant consumption.
Sustainability 
Environmental protection through exact metering of the lubricant. The risk of excess or insufficient lubrication of your equipment is minimized.
Automatic lubrication is essential for the maintenance of machines
Have you ever asked yourself what keeps a machine running smoothly day in, day out? The answer lies in the lubrication system. Machines are made up of different parts that constantly move and come into contact, causing friction and wear. For this reason, automatic lubrication has become an important part of machine maintenance.
Inadequate, excessive or incorrect lubrication can result in the following risks:
machine and plant breakdowns
expensive production downtime
reduced efficiency
costly repairs
FAQ about automatic lubrication
Components of the highest quality
For maximum reliability and durability
Every product is only as good as its components – a chain is only as strong as its weakest link. That's why ss.LUBAC relies on top-quality components made by renowned manufacturers. This guarantees a long useful life and low maintenance costs for our products and automatic lubrication systems. Combining the experience of our experts with our supply partners' quality products leads to reliable and individually designed systems and products for small businesses through to global corporations.
Stability & Dynamics
Our individuality for your added value
Our systems and solutions ensure more effectiveness and reduced operating costs in many industries. Environmental protection, care and fairness are a priority for us internally and when it comes to dealing with our customers. We are generally kind, cooperative, appreciative, and always open to new things. A constantly growing, interconnected team and numerous satisfied regular customers on all continents are the result.