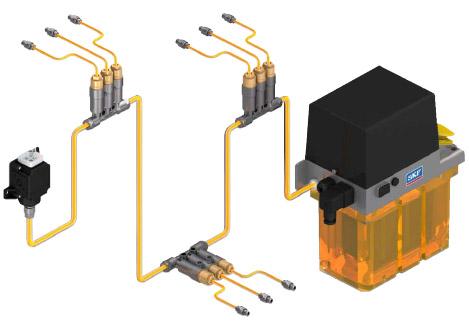 Single Line Lubrication System
Single-line systems are a frequently used lubrication technology in mechanical engineering, especially in machine tools. They can be used both as consumption lubrication and as circulation lubrication with oil. These single-line systems can cover up to 100 lubrication points and lubrication line lengths of up to 30 meters and usually operate with fluid grease or oil as the medium.
The single-line system operates using a pump that delivers the lubricant under intermittent pressure from the reservoir to the main line. Through distributors connected in series, a precisely metered quantity of lubricant is conveyed via lubricant lines to the friction points, almost independently of viscosity and back pressure.
A prelubrication distributor delivers the lubricant while the pressure builds up in the line. A relubrication distributor delivers the lubricant when the main line is unloaded or after it has been unloaded. In order to pump lubricant into the distributor again, the pressure in the line must be reduced so that the necessary regrouping can take place in the distributor. The pressure is then built up again to continue lubricant delivery.